WE RECOMMEND: Nikki MacDonald's Cookies
Sophomore's cookies are loved by students.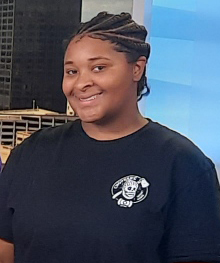 Wrapped decoratively in a clear bag and her trademark 'Thank You for Supporting this Black Owned Business' sticker, Nikki MacDonald's cookies are easily recognized and well-liked by many. 
MacDonald started baking when she was in seventh grade after taking a cooking class where she learned to make muffins. Since then she's fallen in love with baking and can bake everything from pies to banana bread. 
She started selling cookies in ninth grade and has since then added three staple flavors: sugar cookie, chocolate chip, and cookies and cream. 
"I started it because I really enjoy baking and you can express your freedom," she said. 
Baking for so many people can be complicated but with practice she's become faster and better at baking. MacDonald bakes throughout the week so her customers can have them the next day. 
She hand mixes the cookie batter and uses a stand mixer for wet ingredients.  With so many customers wanting cookies she often has to stay up late at night to finish orders.
"I do have trouble with saying no, I can't like, do this," she said. "But I usually just tell my customers that they can just wait till next week because it's packed cookie-wise and I don't really have a lot of time."
Despite so many orders piling up, she says she appreciates her customers dearly.  
"[I enjoy] seeing the excitement on my customers' faces when they receive my [cookies]." 
Senior Amelia Andrews-Sullivan found out about MacDonald's cookies through a friend and since then became one of MacDonald's best customers—her favorite Nikki's cookie flavor is chocolate chip. 
Andrews-Sullivan has high praise for MacDonald's cookie capabilities. 
"She is looking for more types of cookies to start selling and she has an extreme interest in baking," she said. "She's talked about venturing outside of just cookies and I feel like that's what I like most about her business—that she's like so open to trying new things, trying new recipes, trying new things outside of the scope of what she already sells."