Collin Woodland speaks on college competition and global economics
Senior Collin Woodland finds solace amidst the impending college drama
While Collin Woodland is no stranger to competition on the soccer pitch or on the basketball court, a new field of competition—one that is almost universal for all high-school students—greets him during senior year. 
Woodland is a high achieving student with a knack for student affinity and community service. He leads the Young Activists Coalition as well as the Model United United Nations Club at Strath Haven High school. 
Despite his clear merits and array of activities, Woodland feels nervous about the college application process. He finds the environment detrimental for students' health. 
"
"I think [the school environment] is negative in the sense that it fosters a cutthroat environment that is damaging the students' mental health," he said. "People will succeed at the expense of their happiness." "
Woodland doesn't appreciate the increasing competitiveness. 
"I don't like telling people where I'm going or [where] I'm applying," he said. 
Nevertheless, Woodland dedicates himself in many ways to improving his school community. Apart from leading clubs, he often works with school administrators on policy reform. 
His work directly relates to his selected course of study. Woodland is currently doing an independent study in Developmental Economics and Government. His research consists of analyzing the effects of import substitution industrialization in developing countries. 
"Their economics, I guess, is really tied into how well the government works and the quality of life of the people," he said.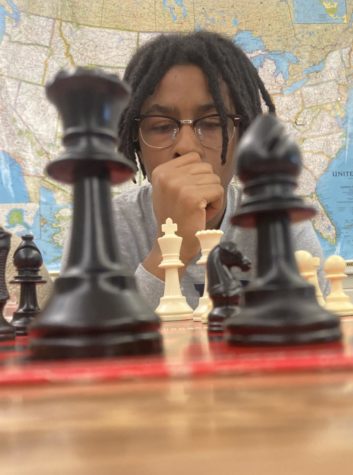 Woodland hopes to foster his interest in economics in college. While he's interested in the particular college's prestige, he also values the array of resources. He hopes to double major in journalism and economics. 
"While these schools have big names, they also have big experiences as well that can really get you a foot in the door," Woodland said. 
Amidst the rising competition, he has some words of advice for the other seniors applying to college. 
"Keep everything with an open mind. Keep an open mind if you don't get into your dream school," Woodland said. "Just remember that any college degree is a college degree and just make sure to make an impact wherever you go."