Young Activist Coalition leaders offer perspective on Black History Month presentation
The entirely student-led assembly allowed for more creativity in the presentation.
On Feb. 1, Young Activist Coalition (YAC)leaders and members gathered the high school community in the auditorium during second block for the Black History Month Assembly.
The assembly featured music performances, poetry recitations, videos, and speeches from students and community members. 
"This year's assembly theme was consistent with the national theme for Black History Month for 2023, which was on Black resistance," senior YAC leader Anjali Robinson-Leary said.
This year's presentation was completely student-led, involving all of YAC.
"
This year, we decided to do something a bit more artful regarding the theme. "
— Anjali Robinson-Leary '23
"We started two weeks before the winter break, and it was great to see all of YAC involved in the making and the process of it," senior YAC leader Collin Woodland said.
Robinson-Leary believes that this year's performance was more creative and intentional than previous assemblies.
"I think all the [YAC] leaders would agree with me, considering that we had a lot more transitions that were more lengthy and still purposeful rather than just switching off speakers and going more quickly," Robinson-Leary said.
"We also feel like we had a lot more performances [than previous assemblies]," she said. "We had two poets, two songs, and then also a video at the end that was different. In our traditions in the past, we typically do an interview with all the students here who are doing something creative or remarkable. But instead of doing that, this year, we decided to do something a bit more artful regarding the theme." 
One of the poets Robinson-Leary mentioned is Derek Smith, an aspiring author and local insurance broker. 
"What I thought really put the icing on the cake was how we got Derek Smith, who is a community member and has children who graduated from Strath Haven, read and performed a poem for the assembly," Woodland said. "And it really showed the strength and vitality of the Wallingford-Swarthmore community and kind of coming around a cause that, you know, shouldn't necessarily be dealt with only outside of school or only inside of school."
Both Robinson-Leary and Woodland had some interesting insights regarding their favorite part of the presentation.
"For me? I think my favorite aspect was the video at the end, just because it was my idea. I saw it on Tik Tok, and I thought it was cool, and I was glad that I got to incorporate it," Robinson-Leary said. "I also had a lot of freedom with what I could choose and say and stuff like that because a lot of the themes were larger than what we could have conveyed in any other acts."
What resonated the most with Woodland was sophomore Jordyn Thrumond's spoken word poem.
"It was full of passion," he said. "I can definitely relate to a lot of the points that she brought up, and I'm pretty sure a lot of the people in the audience and people of color can as well. And I think it was great that we were able to give her that platform to share her experience and her fight, but also share what she's learned and what she's hoping to give back to the next generation of Black students at Haven and creating a safer space for them all."
Robinson-Leary is proud that this year's graduating class has made an impact with the Black History Month presentations throughout high school. 
"This year was a lot about all of us, our seniors," she said. "Most of us participated in the Black History Month assembly in our very first year, which was, I want to say, Strath Haven's first since 2005. So this year was all about really making our mark with our last one and paying homage to our leaders that came before us, and when they saw online what we were able to do, they were overjoyed."
Leave a Comment
Your donation will support the student journalists of The Panther Press. Contributions allow us to cover our website hosting costs, continue to print new issues, and purchase equipment.
Staff Credits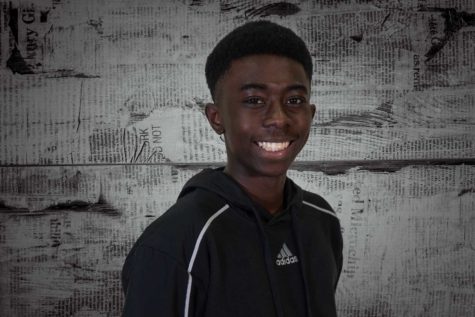 David Hagan '23, Contributor
David Hagan is a senior at Strath Haven High School. This is his first year reporting for the Panther Press. In his free time he enjoys playing soccer and hanging out friends.