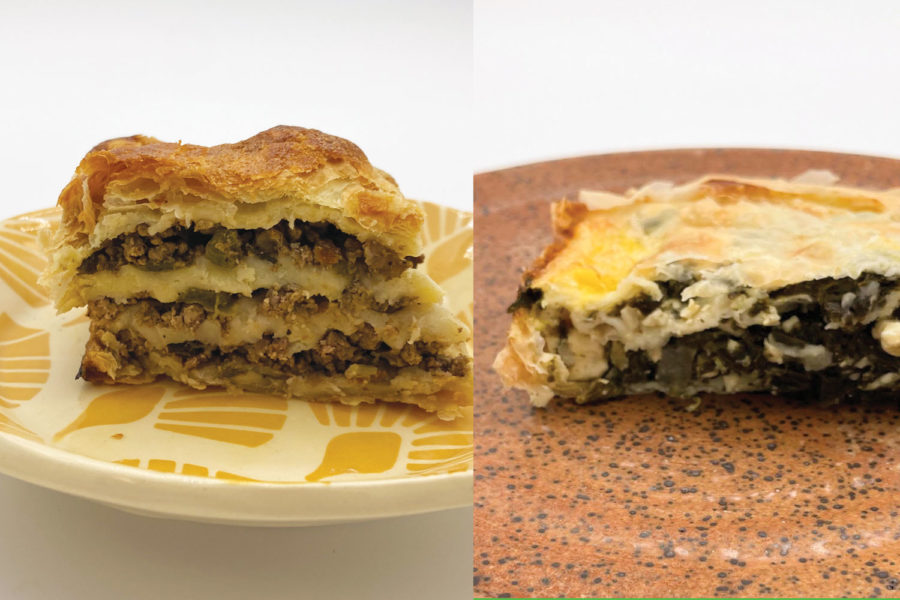 Mrs. Mimi Drew • Turkish Borek
The Turkish Borek is a very good meal for all occasions. 
Mrs. Mimi Drew
English
---
What is your favorite recipe? 
Turkish Borek. 
What does this recipe mean to you?
It takes me back to the time when we lived in Turkey, and my friend, who is a Turkish woman and still lives there, showed me how to do this. So every time I make it, I think of those years, that were wonderful years. 
Who do you make this recipe for?
Always my family. My kids love it. 
---
MEAT BOREK REVIEW • prepared by Jillian Thomas
Gabriel Ball, Rhys Hals
The Turkish Borek is a very good meal for all occasions.  It is very buttery and light, and each of the ingredients, (the meat, vegetables, and puff pastry) do not monopolize the flavor, creating a very multi-layered texture and flavor. Despite the buttery flavor it is not overwhelmingly heavy, and can be eaten in bulk easily. It could use a bit more vegetables as it's a bit heavy on the meat side, but all in all, a perfect warm dish for a winter day.
VEGETARIAN BOREK REVIEW 
Sarah Bagonis, Julia Gray • prepared by Ms. Plows
The Turkish Borek Veggie had strengths and weaknesses, for example a strength would be the buttery and light crust of the veggie borek and a weakness would be the strong salty taste of the dish. The saltiness really overpowers the dish; The feta cheese adds a sublime tang and sharp taste without overpowering the whole of the dish. The vegetarian borek is a very light dish but it is also very filling, you don't need to eat a lot of it to be full but the amount you eat does not leave you feeling bloated or heavy.