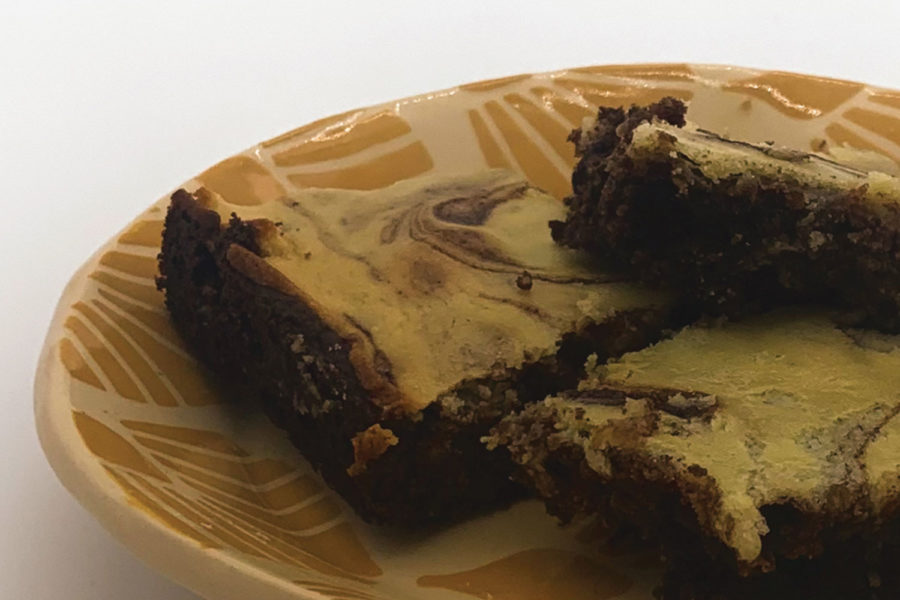 Ms. Kate Plows • Cream Cheese Brownies
A return to grandma's kitchen
Ms. Kate Plows
Visual Art
---
What is your favorite recipe?
My grandma made these cream cheese brownies for every holiday and family gathering. The recipe makes me feel like I'm sitting in her kitchen with a plate of brownies and a glass of milk—I miss those days when things were so much simpler. She always had a stash in the freezer to thaw out for unexpected visits, and they are just as good when they are ice-cold as when they come fresh out of the oven. 
Who do you make this recipe for?
Truly, I almost never cook. But making these for the Panther Press staff made me think that maybe I should power up my oven more often.
---
Ingredients
1 (20 ounce) package fudge brownie mix (13×9 size)

1⁄4 cup water (or what mix calls for)

1⁄3 cup oil (or what your mix calls for)

2 eggs (or what your mix calls for)

Topping

1 (8 ounce) package cream cheese

1⁄3 cup sugar

1 egg

1⁄2 teaspoon vanilla
Preheat oven to 350 F degrees.

Prepare the brownie mix according to package directions

Pour into a greased 13×9-inch baking pan.

Beat cream cheese with an electric mixer on medium speed until smooth.

Add sugar and mix. Add vanilla and egg; mix until well-blended.

Place cheese mixture in dolups over the whole pan, leaving some brownie showing

Cut or swirl through batter several times with a knife or fork for a marbled effect.

Bake for 35 to 40 minutes. Cool; cut into squares



---
prepared by Ms. Plows
Matthew Chen, Kelly Montague
What stood out to us most—apart from the layer of cream cheese on top— was the chewiness of the brownie. The texture was soft yet had the taffy-like firmness that made the chocolateness very appealing. The cream cheese complemented the brownie well: it was distinctly sweet but not overpowering, and added a splash of color to the overall presentation. To my dismay, the large platter of brownies was finished before we could really analyze its taste, texture, and versatility. It was a crowd favorite.