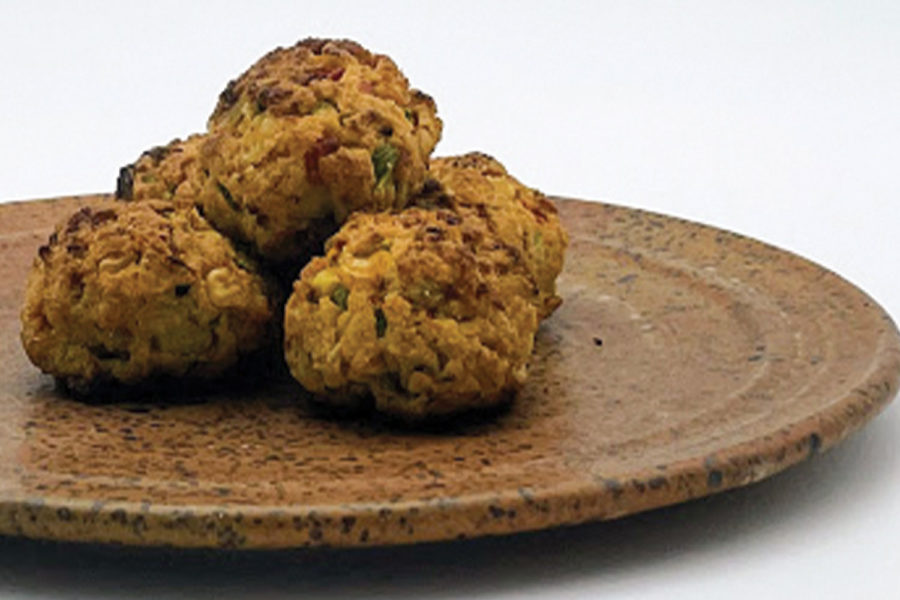 Mrs. Stephanie Lehman • Christmas Lunch Crab Cakes
A family tradition for decades
Mrs. Stephanie Lehman
English
---
"Eating crab cakes for Christmas brunch has been a family tradition for decades. My mom makes them from scratch, and they provide a savory break from holiday-season sweets. I will forever associate the taste with happy memories."
---
1 pound premium grade crabmeat
1 cup cooked corn
½ cup finely diced onion
½ cup finely diced red pepper
½ cup finely diced celery
1 cup Hellmann's mayonnaise
½ teaspoon mustard
pinch of cayenne pepper
salt and pepper
1 egg, lightly beaten
1 ¼ cup saltine cracker crumbs
3 tablespoons butter
Combine the crabmeat, corn, onion, bell pepper, and celery in a mixing bowl and toss

well.

In another bowl, combine the mayonnaise with the mustard and cayenne

pepper. 

Stir into the crabmeat mixture and season with salt and pepper. Gently

fold in the egg and ¼ cup of the saltine crumbs.

Form the crab mixture into eight patties. Carefully coat the patties with the

remaining 1-cup cracker crumbs, and chill, covered, for at least an hour.

Heat butter in skillet. Cook the crab cakes over medium heat until golden brown on

both sides, adding more butter if necessary.
---
Prepared by Charles Bogert '23
Jason Zhang, Jesse Lin
The Christmas Lunch crab cakes' flavor hits like a tsunami. Crab, corn, and butter hit the mind immediately. A nice crispy outer shell opens up into a warm soft inner with the crab taste on the mind. A strong buttery scent guides you like the sea to devour it whole, and the textures of everything complement each other with the perfect mixture of soft and crisp. Mrs. Lehman's recipe hits the spot when it comes wanting a holiday feel and is a perfect dish for any meal.