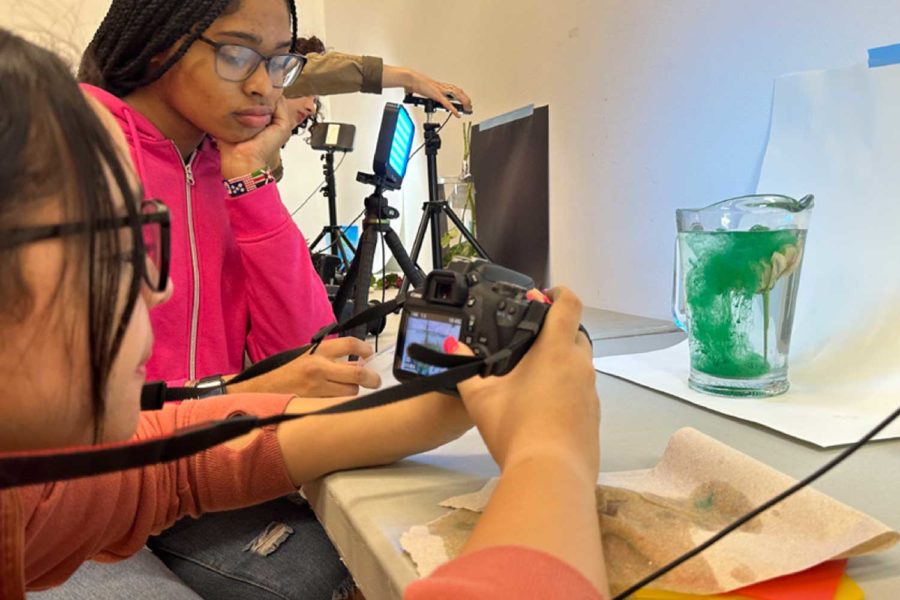 Digital Photgraphy 1
Stuck on how to fill your last elective spot? Digital Photography 1 is a fun and practical elective course to take.
Most people know of photography as taking out their phone, pulling up the Camera app, and clicking a singular button to capture a memory. But in Room 223, digital photography is much more. 
Digital Photography 1 is an art elective available to all high school students who are interested in learning how to use a DSLR camera and expanding their photography skills. 
From compositions to using Lightroom and Photoshop, Photo 1 teaches students all the basics that go into taking a photo. 
"Everybody is going to continue taking photos after the class," photography teacher Ms. Kate Plows said. "It's possible that not everybody is going to keep doing chemistry after their chemistry class, but everybody's going to keep taking photos because we all have cameras in our pockets."
"So if the skills we learned in Photo 1 can help people to be able to just take better photos, then we've done our job," she said. 
While taking and editing photos are part of Photo 1's grading system in the curriculum, students have the freedom to explore school grounds for inspiration. 
"The freedom is unlike any other class at the high school. You get a photo pass, and you get to go around basically anywhere," junior Riley May said. 
May took Photo 1 in the fall of his sophomore year. 
"I got to explore the middle school because we were able to go over to the other side. I also got to explore the high school as well and there's a lot of different places outside I'd never been before." 
Not only that, Photo 1 presents many opportunities that go beyond the classroom. 
"
"The freedom is unlike any other class at the high school. You get a photo pass, and you get to go around basically anywhere." "
— Riley May '24
For instance, earlier this year, freshman Orli Schoff won an award for a photo from Photo 1 that was displayed at Delaware County Community College. It was the first time Schoff realized she could be honored for her photography work. 
"I was really surprised because I'd never really done photography before," she said. "And I was like 'Oh my gosh, I'm so happy' because this was my artwork, and it's being displayed. I think it was so cool and a nice experience having your work picked for something." 
However, there are many challenges to the course, like weekly practices and finding ways to stay creative. These difficulties have helped sophomore Marilyn Ashley, who took Photo 1 in the spring of her freshman year, improve today. 
"It really taught me how to manage my time and work. Especially as a freshman, you need that balance and you need to learn that pretty quickly," she said. 
Besides high school photo opportunities and understanding the photo essentials, Photo 1 could set a path toward the future after high school. 
For senior and Panther Press editor-in-chief Julia Gray, her taking Photo 1 in her fall semester has opened her to a new college opportunity she'd never anticipated. 
"Photo 1 totally changed how I perceive my future and what I thought I might go into," Gray said. "I definitely thought that when I was going into senior year, I'd be an English major, but double-majoring in photography or journalism wasn't something that I anticipated until this year. So, it certainly has gotten me excited and really passionate about this subject, and pumped to learn and keep learning," she said. 
Of course, Photo 1 opens the door to a variety of choices beyond, but it also gives students the chance to showcase their vision of the school and change their perspectives. 
For many of the past Photo 1 students, the class has changed the way they view and apply photography today. 
"I learned so much from taking pictures of random things. Now I know how to take photos of different things, like taking a photo of a chair in a million different perspectives. I definitely will take that in my life," Schoff said.*