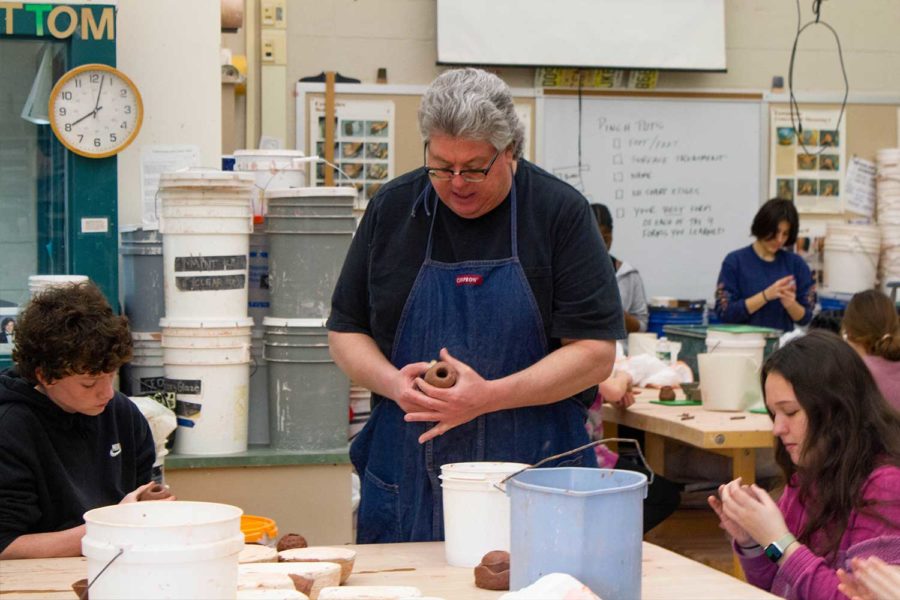 Ceramics
Get your hands dirty with a class on the how-tos of clay, perfect for a busy class schedule.
Want to try out a new skill? Ceramics, taught by art teacher Mr. Scott Rodgers, is a fan-favorite among students at Strath Haven. In a class where you learn all about clay, it's a great class to split up your academically challenging semester.
"
"I wish I'd taken this freshman year," House said."
— Ezrin House
Ceramics is a unique class offered to all students. The curriculum is based around the craft, and students will not only create pieces of art, but learn about the history of ceramics. 
"I teach kids how to make things out of clay. I teach kids why we make things out of clay. I teach kids where we make things out of clay. I do the where, how, why, all those H's and W's," Rodgers said.
Students explore multiple methods of molding clay in order to create unique and sturdy pieces of art, including different techniques to make sculptures, bowls, mugs, and plates. Students are even lucky enough to use one of the ten pottery wheels, allowing them to create symmetrical and study pieces. 
"We start out with an intro to hand-building, so just sitting at your desk with a couple pounds of clay, making things with your hands and simple hand tools. Then after the kids get comfortable with the clay and get a feel for it, we move to the wheel-throwing process," Rodgers said.
Senior Ezrin House enjoys the in-depth teaching of Ceramics offered at Haven, as it allows him to create art that not only he is proud of, but his peers are excited about. 
"It's a very hands-on activity and I get to make things that are actually useful in my everyday life. You don't learn how to make fifth-grade pinch pots you learn how to make good pinch pots that make your friends say 'Wow, you didn't throw that on the wheel?' and I go 'No, I didn't!'" House said. 
Being able to create art that you are proud of is a major aspect of Ceramics. Students, such as senior Lydia Pita, also appreciate the class for it's different and enjoyable classwork. 
"It's basically like playing in the mud, but school-sanctioned, which I think it very fun," Pita said.
Ceramics acts as a split in the day between the rigorous academic classes offered at Haven, providing many a much-needed break in the day. 
"It's a completely different part of your brain than like history or physics or something like that," Pita said.
Most students are not used to something like ceramics, so it allows them the chance to expand their own skills and take a block to relax and make whatever they want to.
"If you want to get outside your comfort circle, that's a good reason to take this class. If you want to get messy and if you want to build stuff, that's the great thing about this class, you pretty much come in and make what you want," Rodgers said.
If given the opportunity to, Mr. Rodgers and his students urge those with an undecided block to consider Ceramics. Taking this class as early as you can leaves you with room to take more advanced ceramics classes and enjoy more clay-throwing and mud-molding than your peers. 
"I wish I'd taken this freshman year," House said.