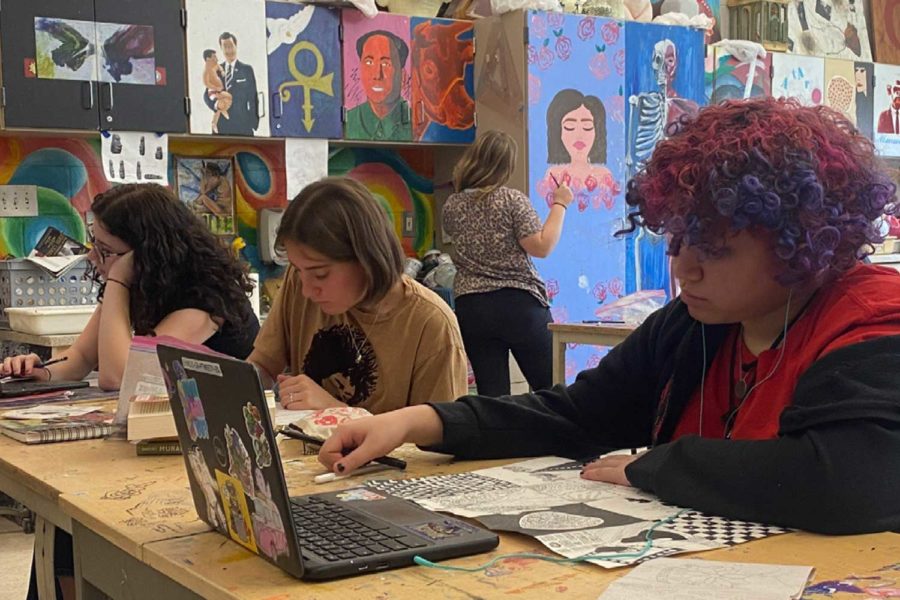 Art 1
Like to make a mess and create work you can be proud of? Art 1 teaches the fun and valuable artistic basics that go beyond the classroom.
It's always a fun time in Room 328 with the hustle and bustle of pencils scraping against the sketchbook paper, the sound of paints being poured then bristled onto canvases, and hands getting black and dusty over sketches of charcoal. 
In Art 1, this is an everyday reality— getting to tune out the rest of the world and dedicating yourself to finding the passion and creativity for creating art. 
Art 1 is an art elective course for all grades 9-12 where students can learn the different aspects of art and experiment with different mediums to apply them to their pieces. 
"It's a wonderful introductory course to learning lots of different art-making techniques and materials," art department leader Mrs. Jennifer Rodgers said. "It gives you a broad spectrum of different things you can do."
"
"I learned many different, new mediums and had access to many different, new supplies. I got to develop my painting and sketching skills, and I've developed a really good foundation." "
— Hannah Loyd '25
New artists, seniors, freshmen, or any grade in between, can attend the class to learn and build upon their skills. 
Sophomore Hannah Loyd first began drawing during the pandemic and took Art 1 in her freshman year to help her develop her artistic interests. 
"I learned many different, new mediums and had access to many different, new supplies," she said. "I got to develop my painting and sketching skills, and I've developed a really good foundation, my artwork was definitely much better after that course." 
The Art 1 course not only covers art fundamentals, like drawing with a pencil, charcoal, using watercolors,  acrylic paints, and even printmaking, but it also incorporates important lessons that students recognize while drawing.  
"My takeaway after every art course is that it reminds me that art isn't perfect and that all art is good art," sophomore Ivy Li said. She took Art 1 in the fall semester of 2022. "My favorite piece was when we did stuff with charcoal because it reminded me that being messy is part of the art process and trying new things." 
Of course, art can be tedious at times. Many people develop creativity blocks while drawing, and it can be difficult to commit time and finish projects. It's easy to get unmotivated and even feel isolated from your work. 
However, senior Kate Noto, who first took Art 1 in her freshman year, and has completed all of the art courses, found ways to overcome such obstacles after having taken Art 1 and so many other art electives throughout her high school years.  
"Sometimes I just don't feel like painting, and I don't want to push myself to do that," she said. "I feel like sometimes I just need to step back. Like with any piece, you want to step back. You don't want to paint a piece in a couple of hours because if you're so up close, you can't see what it's like from a distance. I find that going on walks helps me a lot." 
Rodgers recognizes all these challenges students overcome to inspire themselves and is proud of their ethic to embrace a new perspective of themselves as artists. 
"It's really rewarding. I think that's the most rewarding part of teaching art is seeing that growth and hopefully inspiring a few of them to continue taking more art courses," she said.  
Many of the students recommend trying this course, where anyone can have the chance to discover the fun of making an artistic splash. 
"I feel like it really covers the basics of art," she said. "It is good, especially if you want to get into art in high school. It also reminds me that you're never too late or too old to start art." 
Art 1 is a stress-free environment to be in, and a place to make a mess and find a safe place to express yourself. 
"Art is a safe refuge for me," Loyd said. "It helps relieve school stress and is a good way to expand my mind in a different way. At school, it's a lot of academics and a lot of facts, but in art class, you can express that creativity."