Student Council Plans for 2019-2020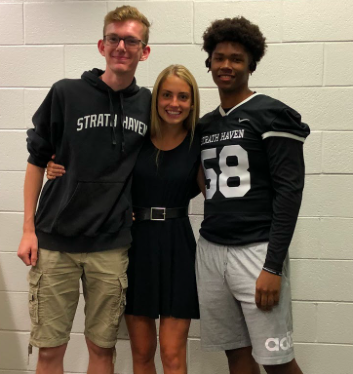 Samah Sharmin & Emma Hunter, Haven Happenings Editors
Sep 18, 2019
Anya Hooper has some big shoes to fill. Last year's Student Council made profound changes at Strath Haven like the homecoming fair. However, President Anya Hooper and Vice Presidents Corey Harris and Michael Fergus have some ideas of their own for the 2019-2020 school year. Their main goals, according to Harris, are to "promote inclusivity and Haven pride," but will their plans be successful?
Hooper seems to think so, stating that she hopes Haven students "walk away in June as satisfied with their school year as possible."
Freshmen orientation was an encouraging start. Hooper's goal was to show new students that upperclassmen are not intimidating, but helpful and approachable. Hooper, Fergus, and Harris demonstrated this by including their pronouns in their introductions and giving out their phone numbers in case the freshmen had any questions or concerns throughout the school year. They made sure that the seniors leading orientation groups exhibited these values as well by emphasizing the importance of "mentoring" during and after giving a tour of the school. In addition to a fun game of Kahoot and getting a taste of the lively Strath Haven student section, Student Council successfully reached out to the freshmen and demonstrated their dedication to break down barriers between underclassmen and upperclassmen in order to create a friendly environment at Strath Haven.
Student Council also has plans to expand last year's homecoming festival. The fair features local food trucks as well as an array of booths set up by high school clubs. These include stations for arts and crafts, as well as games, merchandise, and baked goods. The premise of the festival is to raise money for underfunded clubs and allow the community to come together and enjoy the afternoon before the evening football game. This year, the fair is being relocated to a more open venue: the back parking lot of the high school. There is even talk of bringing a moon bounce! Additionally, due to their popularity last year, Student Council will bring in more food trucks centered around the Homecoming theme. Harris hopes that this event will "bolster the sense of community" at Haven.
In general, Student Council wishes to make Strath Haven a more welcoming environment. Fergus wants to make Haven "a place where every student feels comfortable." He thinks that "these initiatives can help create a better atmosphere where students can learn, make friends, and just grow as people." From welcoming students in the morning to reaching out to freshmen in the halls, Student Council wishes to strengthen the bond between students, regardless of grade or any other discriminating factor.